[ad_1]

Despite a slowdown in overall growth year after year, passenger aviation was closest to the 2019 level in March since the onset of the epidemic, according to the International Aviation Association.
The March passenger air volume recovered 58.7 percent compared to the March 2019 level, compared to 54.5 percent in February. Revenue passenger kilometers increased 76 percent year-over-year in March, compared to an increase of about 116 percent in February.
The impact on air travel was "limited" due to the conflict between Russia and Ukraine. However, the spread of the Covid-19 omicron variant in China has affected domestic air travel, although not international traffic for Asia-Pacific carriers, according to IATA.
[Report continues below chart.]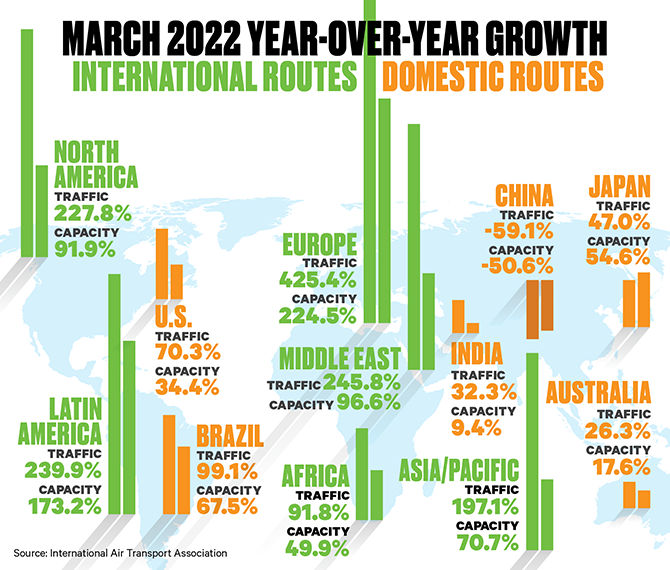 IATA Director General Willie Walsh said in a statement: "As travel barriers are reduced in most places, we see long-awaited growing demand finally being met." "Unfortunately, we are also seeing long delays at many airports with insufficient resources to handle the growing number."
Total global capacity grew 46 percent year-over-year, representing a slowdown from 68.4 percent growth in February 2022. Capacity decreased by 35.5 percent compared to March 2019. Europe led the change in both traffic and capacity, at 246.9 percent and 162.8 percent, respectively. The Asia-Pacific region continued to report year-on-year declines for both regions, at 17.9 percent and 14.9 percent, respectively. The total load factor was 74.7 percent.
March domestic air traffic continued its recovery, rising 11.7 percent year-over-year, representing a 23.2 percent decline from the March 2019 level. Internal capacity increased 1.5 percent year on year and decreased 18.4 percent from the 2019 level. Brazil showed the strongest traffic growth of 99.1 percent this year. China's domestic traffic fell 59.1 percent, due to "severe lockdowns" and travel restrictions following the spread of Omicron in the country.
Still, Asia-Pacific airlines followed relaxed restrictions in South Korea, New Zealand, Singapore and Thailand, with international traffic growing 197.1 percent year on year in March, up from 146.5 percent in February. Each region except Africa reported a triple-digit percentage increase in international traffic, with Europe leading the way with 425.4 percent gain and 224.5 percent capacity growth.
"The ongoing recovery in air travel is great news for the world economy, for friends and family whose forced separation is coming to an end, and for millions of people who depend on air travel for their livelihood," Walsh said.
Related: IATA: February Air Demand Rebound After Omicron Dip
[ad_2]

Source link